Artificial Insemination Sheaths:-
(AI sheaths)
Bovine AI Sheaths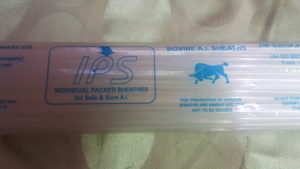 We are interested in providing a visually crafted series of BOVINE AI SHEATHS(artificial insemination sheaths), which is driven by a team of experts and attentive leaders.We are a distributor that specializes in providing high-quality AI Sheaths(artificial insemination sheaths).
AI Sheaths prices :
₹ 30/ 
Pack
These artificial insemination sheaths are of best quality and you can get best AI sheaths price in our company.
These Artificial insemination sheaths(AI Sheaths ) are manufactured in adherence to industry-specified quality guidelines by using the best raw materials. These AI sheaths are known for being easy to use, durable and damage-resistant.
ABOUT US:-
UPADI(uttar pradesh animal development institute ) offer a broad range of Artificial Insemination Sheath, backed by extensive industrial expertise in this field. The provided item is used for artificial insemination in animals. Additionally, our specialist quality controllers test these prior to final delivery.
who we are :-
Manufacturer  of AI Sheaths
Importer of AI Sheaths
Trader of AI sheaths
Supplier of AI sheaths
The AI sheaths provided by us are available to clients in multiple specifications at highly reasonable market prices. The hebbal AI sheaths last for long time periods and are known for their unmatched quality.AI sheaths prices are available on our site and if this is not mentioned contact us on 9450313528.
We have made numerous big achievements in the field of manufacturing  of AI Sheaths, AI Weapons, and other import substitutes on our way to being the leading company producing quality import substitute. we provide more artificial insemination products .
Our hard work and Research & development will continue, and we'd like to seize this chance to encourage our customers that they can get more and more modern digital products in the field of animal husbandry from us in the future, all at a very reliable and fair price. With the valuable support and acceptance from our respected customers, we will remain number one in India for the foreseeable future.